Charity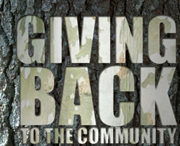 Community Self Storage's commitment to the community!
There are so many ways that Community Self Storage gives back, it's nearly impossible to list them all. Choosing to give back to our community is one of the most important things we can do to transform our lives and the lives of others. Community Self Storage is continuously looking for ways to make a real, lasting difference in the community. It's easy to get inspired with a cause you truly care about and it's rewarding to see your direct impact. A strong community with a high quality of life means safer, healthier lives for you and those around you.
Thank you for your ticket purchase for The Women's Fund's Rockin' Resiliency Luncheon on Sunday, October 28, 2018. Thanks to you and hundreds of others, our event raised more than $200,000 and was a huge success!
We could not achieve any of these services or have these outcomes without generous supporters like you. We sincerely appreciate and are thankful that you chose us as your giving choice.
With gratitude,
Linda Rhodes
Executive Director
http://www.thewomensfund.org
Houston USA Dance wishes to thank for your generous contribution in celebration of our Gala on Saturday, October 8th.  The net proceeds from this event will support the ongoing dance programs through Houston USA Dance.
Sincerely,
Margaret-Daffin
Co-Chair
http://www.houstonusadance.org
Thank you so much for supporting Chapelwood School's Dinner and Silent Auction. The evening was a great success!  Our original goal was $10,000; and with your generous Silent Auction donation of the Storage Space at Community Self Storage, you helped us more than double that goal!
On behalf of the Chapelwood School Staff, I want to thank you again for your support of our school.
Sincerely,
Carolyn Park
Administrator
http://www.chapelwood.org
Thank you for partnering with us and supporting the critical research of the Foundation Fighting Blindness and our Houston Dinner with your generous donation from Community Self Storage. Your gift has already been invested in current research. Together, we can ensure that no valuable research studies go unfunded.
We're succeeding because of you. Because there are so many promising clinical trials underway at this time, I'm confident that you and I will one day soon be able to say we found a cure for blindness.
So, thank you for giving millions the gift of hope.
Sincerely,
William T. Schmidt
Chief Executive Officer
http://www.blindness.org
Thank you so much for the wonderful contribution to Episcopal High School. The climate control storage unit is going to be a great addition to the Gala's Silent Auction. Your continued auction support is greatly appreciated.
Sincerely,
Ned Smith
Head of School
https://www.ehshouston.org
On behalf of The Children's Fund, I want to thank you for your generous contribution of storage space over the past year. Your contribution has enabled us to further our mission to financially assist children's charities in Houston that do not have the size or skills to adequately fundraise on their own behalf. The Children's Fund gives 100% of what it raises to the groups it supports. We have no overhead or paid staff, just committed volunteers positively affecting the quality of life of children in need.
Thank you for your support of The Children's Fund.
Sincerely,
Wya Hogan
President
https://www.childrensfund.org/
Thank you so much for your contribution to the EHS Auction 2013: A Gatsby Knight in Black & White.   With your generous support, this year's Auction will surely be exceptional.
On behalf of the faculty, staff, and students at Episcopal High School, thank you so much for playing a role in our children's education.  We are grateful for your generosity, participation, and support.
With deep appreciation,
Debbie Kelley
Episcopal High School Auction Coordinator
https://www.ehshouston.org/
THANK YOU for your Sponsorship of FFPS Team [301] in [Spring Branch/Memorial] for the Spring 2013 Season.
Your sponsorship has ensured FFPS is "MAKING YOUTH SPORTS FUN AGAIN" with FFPS' unique equal play system, trophy to all, and positive coaching and positive parent training. FFPS' mission is to ensure every player feels as a valued member of the team. FFPS does not have tryouts. Everyone plays equal time. No one is turned away. Thank you for being a part of this unique program. Your generosity has also made FFPS affordable.
THANKS SO MUCH FOR YOUR SUPPORT. WE HOPE TO SEE YOU NEXT SEASON!!
Sincerely,
Javd Hendr
https://www.ffps.org/Default.aspx